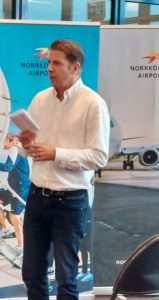 The network "God Morgon Norrköping," which was coordinated by Norrköping municipality's business department, had Jocke Ljungqvist as moderator who held the threads.
A morning that started with a nice breakfast and some mingling, but which then surprised with very exciting information about the airport's future plans.


During the visit, we got to listen to several speakers, including:
Peter Jansson, CEO of Norrköping Airport.
Jessica Ågren Ohlsson, marketing manager for the airport.
Svante Swärd Rudstrom, business developer.